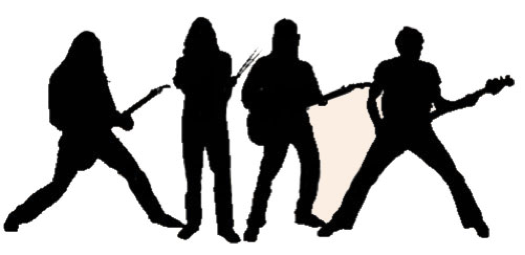 Groupe de Rock
pour les enfants à partir de 7 ans
chaque Mercredi de 17h15 à 18h30
Apprendre un instrument de musique favorise les facultés de l'enfant à différents niveaux, et stimule leur développement global:
• Concentration
• Compétences cognitives
• Capacité d'écoute
• Développement affectif
• Expression artistique
• Dextérité physiques et coordination
• Etc.

Maintenant, Mubabil donne l'occasion à tous les étudiants de musique à mettre en œuvre leurs compétences acquises. En vous joignant à Mubabil's groupe de musique, vous avez la chance de développer des facultés supplémentaires, notamment dans la domaine qu'on appelle dans la psychologie moderne l'intelligence sociale.

One, Two, Ready, Go, et c'est parti ...! Faites pétiller vos notes and groove your bones !
Apprenez à intégrer vos notes dans la grande image sonore de l'ensemble.


Informations supplémentaires:
• Début de l'activité: mercredi 20 novembre
• Tarifs: 45 CHF pour 75 minutes (Materiel fournis)
• Limité à 5 participants maximum
• Conditions préalables: notion basique de votre instrument, des cours sur votre instrument simultanément et surtout beaucoup de motivation.
• Formule d'inscription: par trimestre (vous pouvez, cependant, commencer au milieu d'un trimestre, et vous payez évidemment à partir de la date de votre inscription).
Student Band
for children from 7years upwards
every Wednesday from 5.15pm to 6.30pm
Learning a musical instrument promotes children's faculties on many different levels, and stimulates their overall development:
• Concentration and focus
• Cognitive skills
• Listening skills
• Emotional development
• Artistic expressiveness
• Physical dexterity and coordination
• Etc.

Now, Mubabil provides an opportunity for all music students to implement their acquired skills. By joining Mubabil's School Band you benefit from a training of additional skills, which mainly falls into the domain, which in modern psychology is described by the term "Social Intelligence".

One, Two, Ready, Go, and off we go…!
Let your music shine and groove your bones!
Learn to blend your notes into the big sound picture of the band.

Additional information:
• Launch of activity: Wednesday, November 20
• Price: 45 CHF for 75 minutes (Material included)
• Maximum inscriptions: 5 children
• Requirements: Basic knowledge of your instrument, simultaneous classes on your instrument and above all a lot of motivation.
• Package plan: per trimester (you can start, however, in the middle of a trimester and you pay, of course, only as from the date of your inscription).